Papillon (Papillon)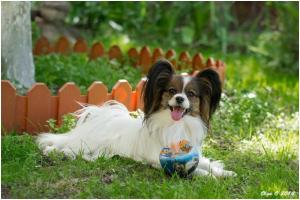 or Continental toy spaniel - small, very friendly, but at the same time graceful and elegant lapdog.
The breed got its name due to resemblance to the eponymous large butterfly. Perfectly cleaned with a soft wool ears - the main pride
Papillon.
Despite the fact that Papillons are categorized toy dogs, they are many successors their ancestors - spaniels other species. It
is primarily concerned with the nature - Continental Toy Spaniel, is our deep conviction - the most intellegent "decoratives" of all and, of course,
one of the most smart breeds generally.
Papillons are very sociable, frendly, forgiving. They are positive in relation to children and, although they have developed a sense of self-worth. very
accommodating towards other animals.
The content of such a dog in the apartment almost does not involve any domestic problems. Papillon feels the fresh air.
Beautiful sloping silky hair of the dog allows her to feel comfortable in almost any climate, whether summer heat or winter cold.
Boy or girl Papillon not only decorate your house with your presence, but will help you create it in an atmosphere of comfort, kindness and friendliness ...